Convert Your Store
Learn more about converting your existing store to Ace
Incentives
We set you up for success when you convert your store to Ace Hardware. Incentives vary by store format/size and are based on Discovery recommended products and quantities. Our incentives are given as a credit, not as cash or a loan.
Upfront incentives to get you started!
Additional product assortment incentive opportunities
FREE labor to bin-tag the entire store!
FREE Ace Paint/Clark & Kensington opening stock order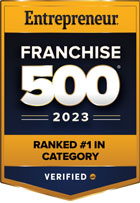 Entrepreneur's Franchise 500
#1 In our category
#7 overall by
Entrepreneur Magazine's Franchise 500 List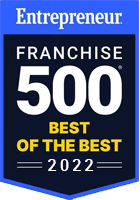 Entrepreneur's Franchise 500
2022 Best of the Best Franchise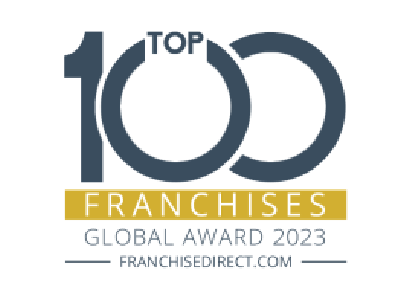 Franchise Direct
#3 on Franchise Direct
Top 100 Global Franchises
Franchise Times
#5 Franchise Times Top 400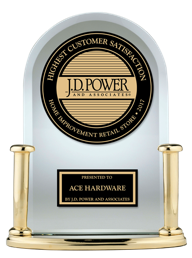 J.D. Power
Highest in Customer Satisfaction with Home Improvement Retail Stores, 16 out of 17 Years*
Our Support
An Ace Franchise propels your business forward.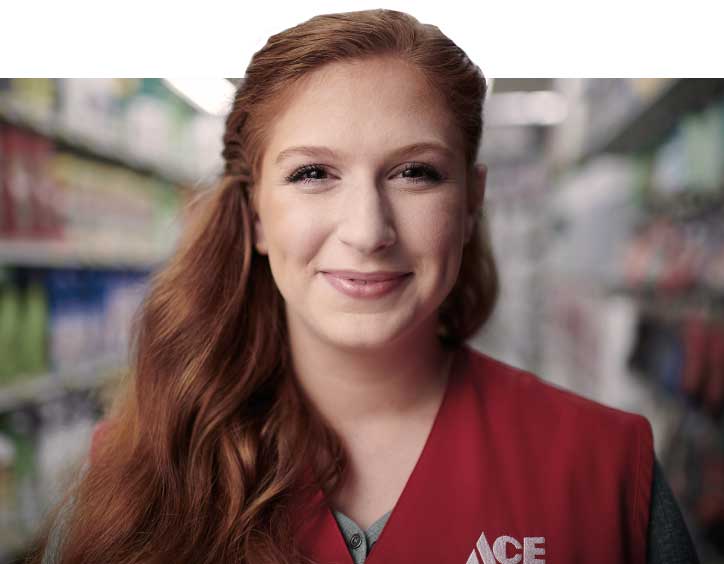 We Back You Up
A field management team advises and consults our retailers to help them grow and develop their business.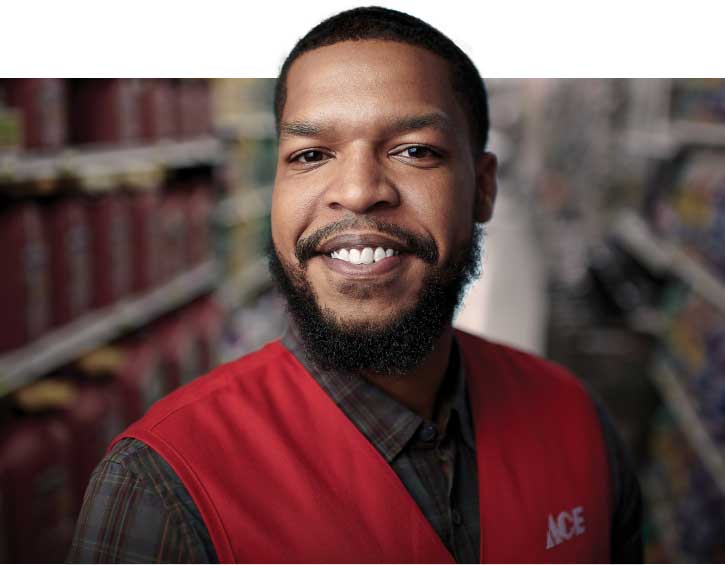 Your Success
We provide in-store training for owners and associates on effective store management, implementing superior customer service, and effective marketing techniques.
How We Compete
It takes something special to succeed in the hardware business.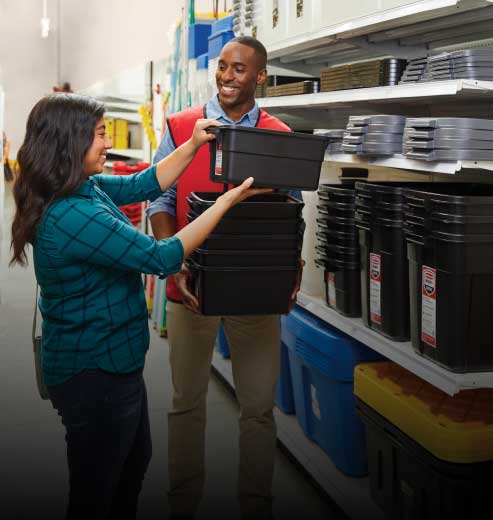 SERVICE
We can compete with big boxes with knowledgeable associates and the entrepreneurial spirit of its owners.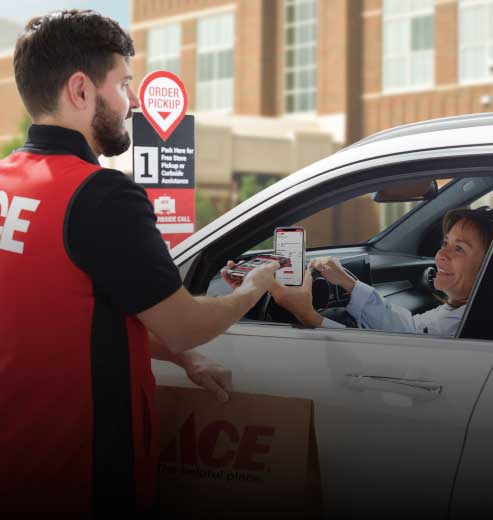 CONVENIENCE
Ace stores can be found right in the neighborhood and combine a quick, in-and-out shopping experience with fast checkout.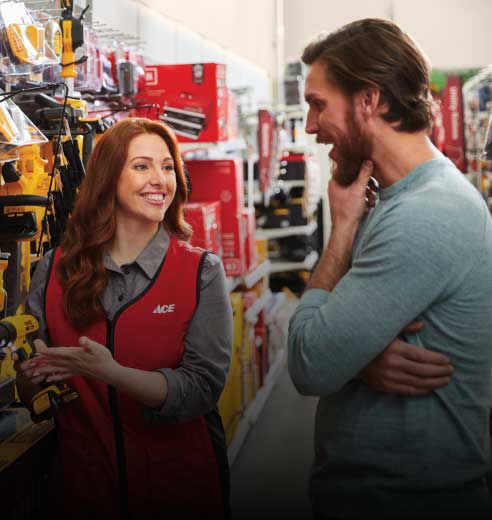 QUALITY
With top brands like Craftsman, Weber and STIHL, Ace Hardware stores offer the best brands in home improvement.
Ace is the place for...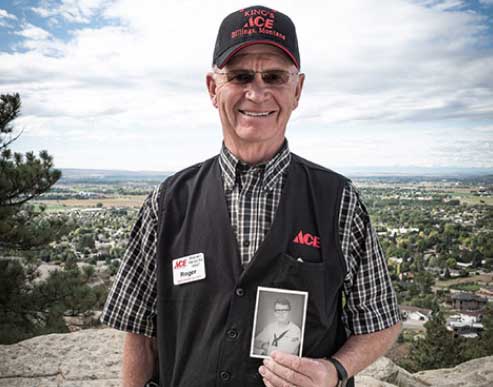 Veterans
As a benefit for prospective Ace retailers who are also U.S. Veterans, Ace Hardware will waive its $5,000 application fee for those who qualify*
*Owner must have a DD214 and own at least 25% of the business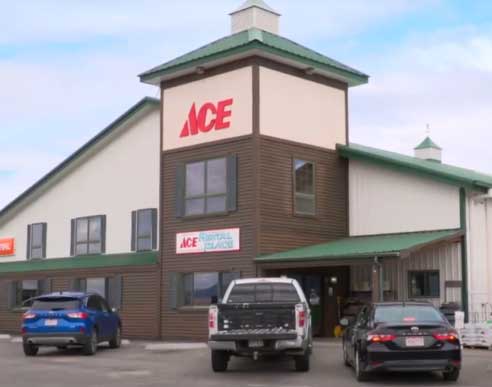 The Coolest Stores
Only a select few Ace Stores receive this coveted recognition annually, based on how well the store differentiates its offerings, services, and culture to meet the needs of the community.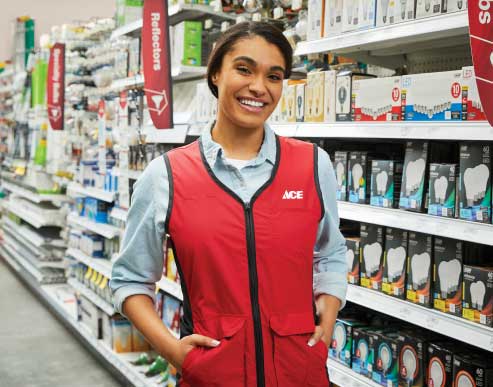 Women in Retail
Ace supports women-owned franchises. Ace Women in Retail allows retailers to participate in a group that shares ideas, hosts guest speakers, and network with fellow retailers.
Ace History
The beginning of one of the most successful franchises.
1924
•
Four hardware shop owners unite to start Ace Stores, Inc.
1931
•
Ace Stores, Inc. officially changes its name to Ace Hardware Corporation.
1940
•
By the end of the 1940s, Ace Hardware Corporation is supplying 133 Ace stores in seven states.
1959
•
Ace celebrates its 35-year anniversary with sales of $24.5 million and 325 stores.
1963
•
Ace begins to expand into the southeastern and western states.
1975
•
With stores in nearly all 50 states, Ace expands internationally, opening a store in Guam.
1985
•
A retailer ordering masking tape at a store in Michigan pushes Ace past $1 billion wholesale.
1994
•
The "New Retail Age of Ace" is launched to battle the "big box" chain hardware stores and help ensure the company's growth for years to come.
2006
•
Wholesale sales reach 10-year highs and the bottom line exceeds $100 million for the fourth straight year.
2013
•
Ace's Clark+Kensington® semi-gloss and satin paints are ranked No. 1 by a leading consumer magazine.
2019
•
12 out of 13 years ranked "Highest in Customer Satisfaction" by J.D. Power*